ETA is the largest supplier of movements in Switzerland. Currently about 80% of Swiss watches have ETA movements. ETA is owned by the Swatch Group conglomerate. Eta was formed in 1983 with the merger of ASUAG and SSIH. Prior to that ETA was Ebauches SA which was an alliance of the top three players in Swiss mechanical movements: A. Schild SA (AS or ASSA), Fabrique d'Horlogerie de Fontainemelon (FHF) and A. Michel AG. Ebauches SA also absorbed another 31 ebauch producers.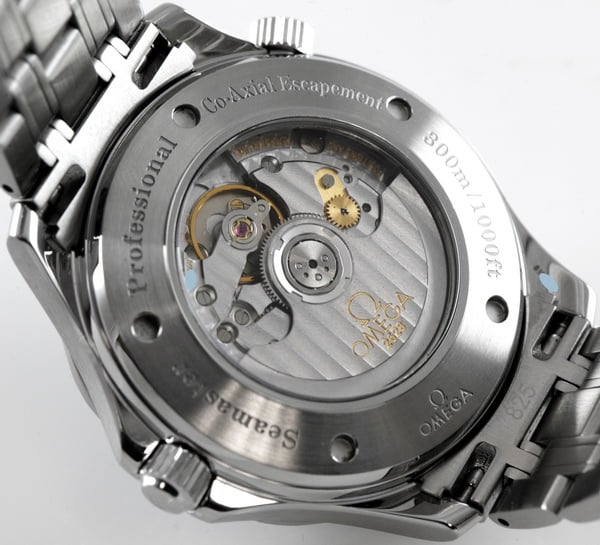 ETA is best known for the production of two automatic movements with date, models 2824 and 2892. They are very similar in design. Both are 25.6 mm in diameter, however the 2892 is almost 28% thinner, being 3.6mm thick versus 4.6mm for the 2824. Both movements are used by other movement manufacturers as the tractor (power base and time source) for many complications like triple date moon-phase, chronograph, big date, power reserve, etc.
The 2892 (2892-A2) seems to have been given priority by making it more efficient. Its oscillating weight is better engineered with a larger support for the ball bearing races, which gives it better shock protection. It is almost always finished nicely with perlage and Geneva stripes. This movement is used by many high-end brands. Often, high-end brands like IWC, Girard Perregaux and Frank Muller will assemble the movements in house and replace some of the critical parts from the escapement to the mainspring to gain tighter tolerances. ETA uses the 2892 as the tractor for other movements like the 2893 with a second time-zone hand and the 2894 chronograph.
The 2824 (2824/2) is no slouch itself. When regulated correctly it will keep just as good of time as the 2892. As mentioned, the main difference I see is that it is 1mm thicker than the 2892. One can order the watch finished as nicely as you are willing to pay. It has a strong mainspring and makes a great tractor for complication modules that are added to the top of the movement. This movement can be found in Tudors, Breitlings, Tag Heuers and many other brands.
How does a chronometer grade 2892 or 2824 compare to the competition? We think they keep equivalent time to a Rolex automatic. Some of the high-end brands we have experience with are actually more finicky, fragile and do not keep as good of time as the ETA and Rolex tried and true workhorses. These other watches often have wide deviations in timekeeping depending on what position they are in. The ETAs and Rolexes are often within a few seconds from the slowest to the fastest deviation.
Recently, ETA attempted to discontinue supplying movement blanks to companies outside the Swatch group. Due to their dominant market position, a Swiss anti-trust court forced ETA to continue producing and supplying movements. ETA was allowed to reduce production by a certain amount each year to allow smaller companies to find new suppliers for movement blanks. ETA has already begun reducing the number of movements that they are delivering to companies outside the Swatch group. Eventually, the company will only provide movements to favored customers and other companies within the Swatch group.
Browse our Stocked watches with the ETA 2824 and Stocked watches with the ETA 2892
[lightbox thumbnails="true"]