We rarely see white dial Panerai.  This one is an especially spartan looking Base model.  No distracting second hand, just hour and minute and in very nice condition.  The F series indicates production in 2003, but the purchase date on the warranty card is 2010.  The Like New condition of the watch agrees with the purchase date of 2010, so we suspect that this piece was New Old Stock when it was purchased.  It is a great piece for a Panerai collector.
When we buy closeout watches from a brand that's no so well known, like Perrelet, we look closely at the fit, finish, materials, workings and try to compare it against brands that are well known to see if it will be a good value for our customers.  Perrelet uses ETA 2892 based movements, the higher end workhorse of the Swiss watch industry, comparable to Seamasters made in the early-mid 2000s and many IWCs made today.  The water resistance is comparable to some top level Breitlings and the bracelets are extraordinarily nice.  The "P" push button extension in the buckle is nicer some modern Omega's and Rolex's at a price half to a third of what you would find in those brands.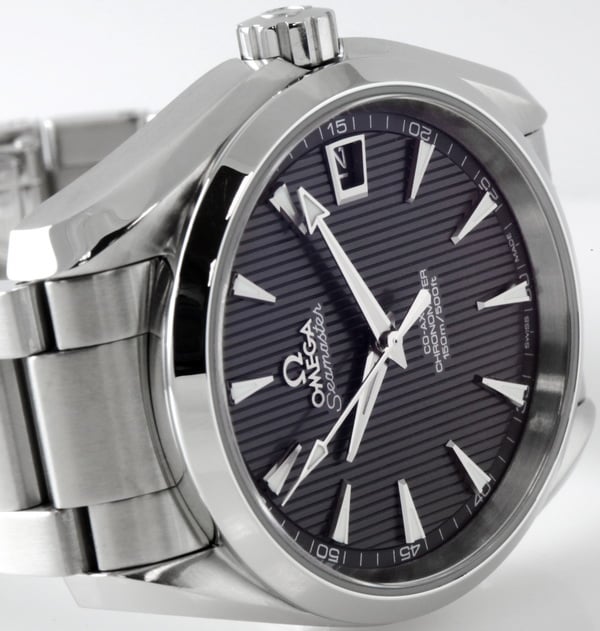 This watch is the perfect answer to the 36mm Datejust in my humble opinion.  It is not too big like some of the other Aqua Terra models or the Datejust II, but still a little larger than the Datejust.  The Aqua Terra competes on an even level with Rolex, with a COSC certified in house Cal. 8500 movement, but it is well priced at about a thousand less than the comparable Datejust model.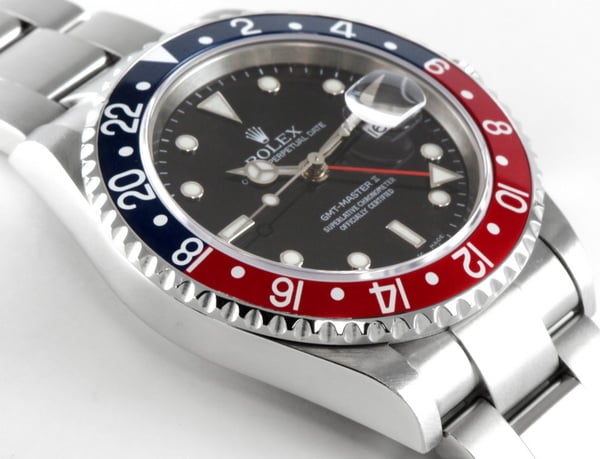 The so-called Pepsi bezel GMT Master IIs (red/blue) are in great demand.  Unfortunately, it is no longer possible to get the original bezel inserts out of Rolex unless you send the watch to them.  Furthermore, the watch must have originally had a Pepsi bezel on it when it was sold new or they will put on a black or red/black insert.  So, while we rarely endorse using an aftermarket part, the bezel insert is one exception.  You would need to be extremely well acquainted with Rolex bezel inserts to tell this one apart from an original Pepsi bezel insert.