Nicholas G. Hayek: "Master of Time", Mr. Swatch, CEO of Breguet, co-founder and chairman of the Swatch Group, and "savior" of the Swiss watch industry.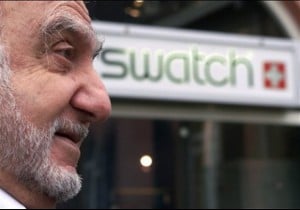 Hayek is a huge believer in the entrepreneur mentality and is close friends with risk and innovation. He takes the traditional Swiss industrial strengths of quality, precision and accuracy to heart. Hayek says "A good entrepreneur is like an artist who is always creating something new." This attitude permeates the Swatch Group, the company Hayek forged from the ashes of the Swiss watch industry in the early 1980s into one of Switzerland's largest success stories.
Hayek was born in 1928 in Lebanon. He is the son of an American dentist who was on faculty at the American University of Beirut and a Lebanese mother who carried the vast majority of his upbringing. Hayek graduated from the University of Lyon in France and moved to Switzerland after graduation. By 1957 he was married with two children. That year while living in Zurich, he pawned his family furniture and received a bank loan for 4000 Swiss Francs (SFr). That was the first and last time he asked for a loan from a bank or anyone else. Hayek Engineering was founded in 1963 and went on to become Switzerland's foremost consultant.
The Swiss poured millions into researching and inventing the quartz watch during the 1960s and 1970s only to have their hard work exploited by the Japanese and others. Sales of Swiss watches dropped 25% in 1982 alone. In the late 1970s SSIH (including Omega, Blancpain, F. Piguet, and Tissot) became insolvent, due in parts to the recession, Asian quartz, and poor management. America's cheap Timex was also taking market share. SSIH was once the world's third largest watch producer, and Switzerland's largest. Another Swiss company, ASUAG (including ETA, Oris, Longines and Rado) who had been the world's largest producer of watch movements, also failed in 1982 with ownership being assumed by creditor banks. Under Hayek's recommendation the two companies were reorganized and merged into ASUAG-SSIH Holding Company in 1983. Most Swiss watch industry "insiders" were panicking and almost ready to give up.
The Swiss banks had hired Hayek as consultant and financier to save the Swiss watch industry at a time when Japanese investors were eyeing Swiss brands for purchase. One Japanese company offered 400 million SFr for Omega. Hayek advised against selling then and again when the company raised their bid to pay an additional 5 SFr for each Omega sold. The watch industry would look very different today had they sold. Omega was clearly a cherished name. Blancpain and Frederic Piguet faced a different outcome and were purchased by Jean-Claude Biver (with assistance from Jacques Piguet, grandson of the famous Louis-Elysée Piguet) for a humble price of 20,000 SFr (about $12,000). The Swatch Group bought the pair back in 1992 for one thousand times its 1981 selling price. Oris was also liquidated and bought by two long-term Oris managers and is still independent today.
Hayek studied the Swiss watch industry and decided it could only be saved by the introduction of a product like Swatch. Automation, aggressive marketing and a solid product all helped pave the road for Swatch's success. Compared to conventional watches, a Swatch used 51 components, about 55% fewer than usual. With the streamlined production it ended up costing 80% less to produce than other Swiss quartz models. It is no mistake the Swatch logo incorporates the Swiss flag. The Swatch was an emotional product, not a commodity. It allowed its wearer to express themselves through many affordable styles. Creating that emotion helped pave the way for the renewed success of mechanical watches years later.
In 1985, Hayek (with 300 million SFr) and a group of investors acquired a majority shareholding, took the company private and Hayek was named CEO. The group was renamed SMH in 1986, and ultimately Swatch Group in 1998. The Swiss watch industry on a whole was on their way to recovery. Classic brands Omega, Hamilton, Rado, Longines, and the rest were given another chance to shine. Some brands are limited in production and are not offered for sale in the American markets. The group eventually bought the top-end brand Blancpain back from Biver in 1992. Biver continued to run Blancpain and helped with managing Omega until 2001 when Hayek's grandson Marc A. Hayek took over managing Blancpain. In 1999 Swatch Group bought Breguet and Lemania from Investcorp. Hayek assumed CEO duties at Breguet and has been instrumental in its current success. The Swatch Group now offers a complete range of watch brands appealing to all price points.
In 2002 Swatch Group announced they would phase out the selling of Ebauches (partially-assembled movement blanks) by 2006. Most of the groups watch brands do not make movements themselves. Those responsibilities are left to the groups three movement producers: ETA, F. Piguet and Lemania. These movements find their ways into hundreds of brands assembled in Switzerland, Asia, and around the world by companies with no affiliation to the Swatch Group. Fearing dramatic consequences to the industry from an Ebauche supply shortage, the Swiss Competition Commission stepped in and a compromise was reached. ETA pledged to deliver the movement blanks until 2008, with a complete phase-out by 2010. Hayek recognized the growing reliance on ETA movements by 3rd-party companies and thinks it would ultimately be crippling to them and Switzerland. One of Hayek's intentions is to force more companies to invest in the innovation and production of movements. The Ebauches also find their ways into many counterfeit watches, which is clearly a concern. Four years after Hayek's declaration to end Ebauche sales, in-house movement production by other companies is up considerably and the Swiss watch industry is much healthier for it.
Today the Swatch Group employs 20,000 individuals worldwide and is clearly one the biggest watch manufactures in the world. Under their umbrella are high-end watch manufactures Blancpain, Breguet, Glashutte, and Omega. Middle-end manufacturers Hamilton, Longines, Rado, and Tissot and lower-end manufactures Calvin Klein, Mido, and of course Swatch.
In addition to watches and their movements, the Swatch Group also has Swatch Group Electronic Systems, which is an association of 7 electronic companies which make a wide range of solutions including batteries, lasers for welding metals, oscillators, circuits and much more.
Hayek Senior stepped down from his CEO position and daily responsibilities in 2002 and handed the reins to his son Nick Hayek, Jr. At 78, Hayek Sr. is a very active man, still the chairman of Swatch Group, CEO of Breguet, and operating his original consulting firm Hayek Engineering Inc that employs over 250 people. He spends a great deal of time lobbying for business innovation and the entrepreneurial spirit in Switzerland and throughout Europe. He continues to act as a consultant to many European governments and has received numerous awards for his services.
---