It is no secret, we sell a lot of dive watches here at Bernard Watch. Like an SUV and rugged terrain, many "professional" dive watches will never see their way around a SCUBA suit or inside a diving bell. Also like an SUV, they are tough and built to withstand the elements. This makes them a great every-day watch!
Just about every major Swiss brand offers a diver's watch of some sort. For this blog posting, I am going to just focus on pieces from Rolex, Omega, TAG Heuer, and Breitling. In a future post we'll discuss dive watches from the likes of Panerai, BALL, Anonimo, and others.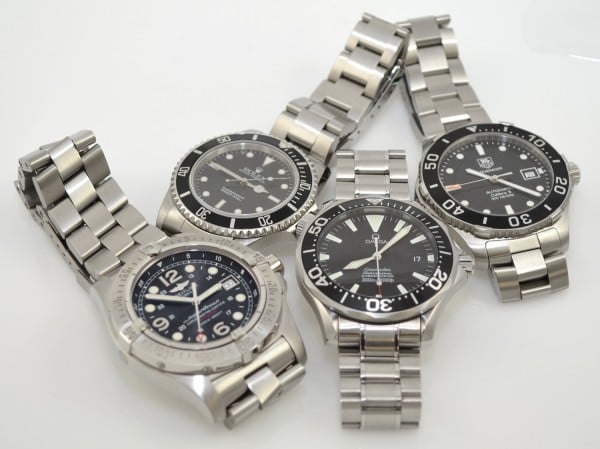 If a watch has a 200 meter depth rating, that should be enough of a dive watch for most recreational SCUBA divers. No matter the brand, there are a few things almost every dive watch have in common. The screw-down crown, the screw-down back, and a unidirectional rotating bezel. A "professional" dive watch's bezel will have different markings for the 0-15 minute markers than the rest. A diver bezel will also only rotate counter-clockwise. A diver may start his dive calculating he can be under water for 30 minutes and set his bezel accordingly. If the diver accidentally turned the bezel counter-clockwise without noticing, he'd just come up to surface earlier. If the watch allowed him to accidentally turn it clock-wise, he might end up as fish food. Certain watches fit for diving such as the Panerai Luminor and many Anonimo watches do not have an adjustable bezel.
Bracelets and Clasps
Over the decades, dive watches were almost exclusively offered on stainless steel bracelets. Today, rubber straps are logically a popular choice for a dive watch. Rubber appeared on the watch scene in the 1970s, but not on high-grade Swiss watches. Hublot is sometimes credited for making rubber a luxury item in the late 1980s. 20 years on, there are many strap options. Weight does not matter under water, but on the surface a quality metal band can easily weigh as much as the watch it holds, basically doubling the weight. Many men prefer the extra weight, but not everyone, so it's nice to have choices. Breitling, Omega, and TAG Heuer all produce rubber straps for their dive watches. The Rolex Submariner has only been offered on a metal band. The company Rubber B saw the gap in the Rolex market, and specializes in aftermarket rubber straps for Rolex.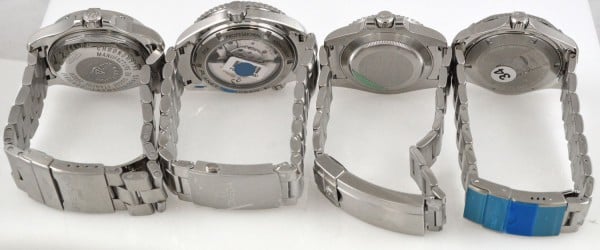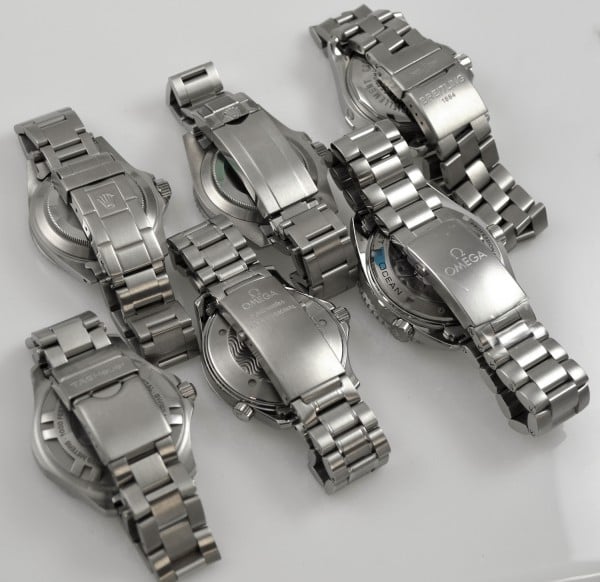 The flip-lock clasp has long been the most used safety clasp on dive watches. Rolex still uses it in its most recent Oyster bracelets. Omega has taken another approach and uses the double push-button mechanism to release the clasp. Recently, TAG Heuer has transitioned to using the double button setup on many of its models.
Luminosity, Legibility, Dials, and Markers
While a variety of dial colors are offered for dive watches, black is by the most popular and prevalent. Legibility is another critical factor for a dive watch, and another reason they are so appropriate for everyday wear. Contrast is important, and the markers and hands are often exaggerated further improving legibility. For those of us with diminished eye sight, it's a welcome factor to be able to read something without your corrective eye wear.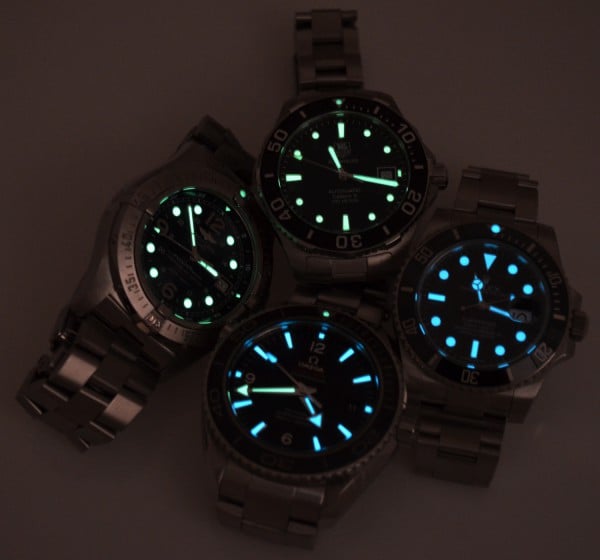 Luminous was pretty much always a yellow-green in the past, whether it was tritium or Super-LumiNova. In the past few years however, it's become a trend to put different pigments into the luminous giving us something different. You'll notice on the Omega Planet Ocean above that most is blue, but the minute hand and bezel dot (the most critical items when diving) are green, further improving legibility. Certain Ball watches will use up to 4 luminous colors!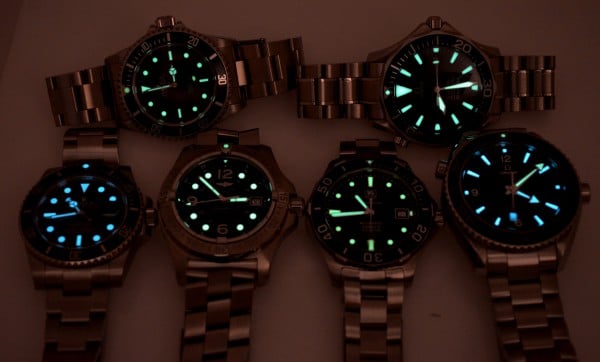 Diving & Water Resistance
The water resistance ratings for watches are for perfect conditions created in a laboratory with the wearer sitting still and with no currents. Many Swiss dress watches have a WR rating of 30 or 50 meters (98 or 164 feet). These watches may be okay if submerged for a brief moment, but after a few minutes in a swimming pool, they'll likely start to let water in which will damage the watch. For occasional casual swimming, a watch with a 100 meter rating and screw-down crown should be okay.
If you plan on keeping the watch under water for any significant time, or to a depth greater than 10 meters, you'll want a watch with a 200 meter rating or better. A 200 meter rating tells us the watch is suitable for recreational scuba diving. You know, for diving down to the beautiful reefs 10-20 feet (3-6 meters) down. The Seamaster Pro and Submariner are rated to 300 meters which is suitable for "professional scuba diving". The Omega Planet Ocean to 600m. The older Rolex Sea-Dweller to 1220m. The Breitling SuperOcean SteelFish to 2000m. The latest Rolex DEEPSEA to a lung crushing 3990 meters! In general, the deeper the watch can go, the thicker the case will be.

SteelFish, Planet Ocean, Submariner, Aquaracer.
The Planet Ocean is without a doubt a tough watch and easy to read, but with its deep diving capabilities, it may be a bit thick if you're trying to fit it under a fitted shirt sleeve.
If you do use your watch for diving, it is highly recommended you get the seals and gaskets checked once a year, or at least before any significant diving adventure. Gaskets are rubber and can dry up. Soap and hot stream are two other significant factors that can reduce the service life of the gaskets in your watch. Soap reduces surface tension. Hot steam is a gas with smaller particles that can sneak in past the typical barriers. Steam can also warp gaskets. We have more info on water resistance on our site's general FAQ.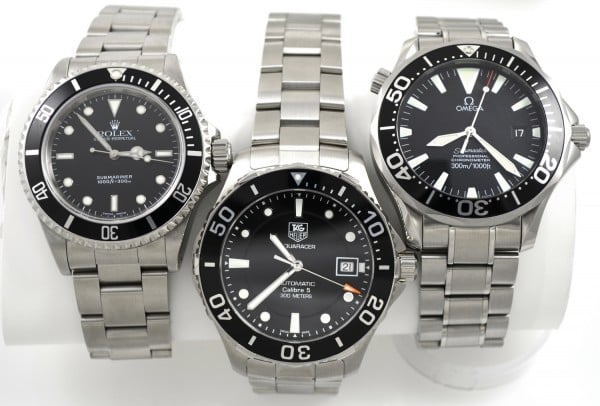 If properly maintained, a dive watch can provide many years of service, on land, and in water.
Bernard Watch always stocks plenty of diver watches: